REVIEWS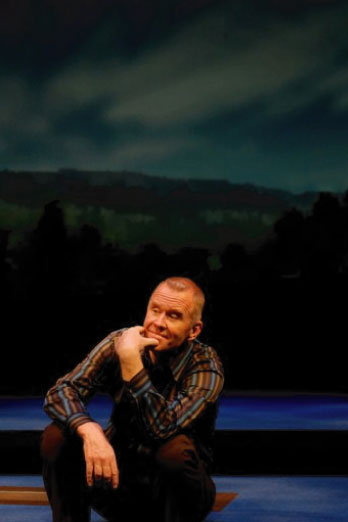 Photos by Ben Netzley
Current Reviews
Reviews Archive
'Wonder Boy' is a winner
Michael Morain, Des Moines Register 
The title character in "Mr. Wonder Boy," which runs through Feb. 27 at the Civic Center's Temple Theater, dropped from the sky in a meteorite, crashed through the roof of a barn in West Virginia and spent the first three years of his life literally flying around the home of his adoptive parents. They tethered him to furniture to keep him from floating away and warned him not to inhale any helium from balloons, which would only make things worse.
Or so we're told. It's the kind of tall tale that's funny because we know it's not true. The rest of the show is funny — and surprisingly moving — precisely because it is.
Over the course of a quick 90 minutes on Wednesday's opening night, "Triple Espresso" co-creator Bob Stromberg's stories about growing up in the 1950s and '60s coaxed genuine belly laughter from the audience.
But the one-man show, unlike so many others in the last few years, is much more than a nostalgic litany of Boomer memories. Stromberg mentions the Beatles and the Slinky and the Buster Brown shoebox he decorated to collect Valentines only to share a bigger message about the importance of self-acceptance — even if, as is in his case, that particular self is "distressingly cheerful, depressingly hopeful and annoyingly buoyant."
"I tried to be miserable," he says with a shrug. "Couldn't pull it off."
Directed by Risa Brainin, the show opened in the Twin Cities, where Stromberg lives, and played briefly in Connecticut before coming here, where the set's minimal furniture is almost unnecessary. It starts with a fake documentary about the Wonder Boy's early years in West Virginia and fast-forwards to the grown-up Wonder Boy's questions about whether he can still fly.
But soon enough, the actor breaks character to vent about a fictional bad review in which critic said the show was "like chewing on tinfoil" and "almost funny in the same way that Taco Bell is almost Mexican." From there, Stromberg drops the Wonder Boy shtick altogether to explain that he may not be a great actor because he never suffered enough as a kid. His happy childhood essentially ruined his career as an artist
And so begins Stromberg's account of growing up in northern Pennsylvania, an out-of-the-way place he knows was "utterly artless" but can't help recalling with the same sunny enthusiasm that Rose Nylund has for St. Olaf on "The Golden Girls" and Kenneth Parcell has for backwoods Georgia on "30 Rock." The better comparison might be Garrison Keillor, who daydreams of a life as Guy Noir but whose heart belongs to Lake Wobegon.
In a hilarious slideshow filled with blurry images of his family, Stromberg points to one of his frumpier aunts, with a beehive and cat's-eye glasses.
"Remember Gary Larson, the guy who drew 'The Far Side' cartoons?" he asks. "I think he knew my people."
But like Keillor, Stromberg can turn those laughs into something deeper in a matter of seconds, in a way that feels natural and unrehearsed. His third-grade memory of a music teacher who accidentally tucked her skirt into her girdle during a Christmas concert becomes a lesson in courage. The account of his dad's fall from an apple tree turns into reminder to actually tell the people you love that you do.
It may sound strange, but in some of the show's best moments, Stromberg sounds almost as if he's speaking from the pulpit: Be honest with yourself. Be good to each other. Life is short.
And since it is, please, go see this show.
Stromberg gives heart, soul to show that's much more than a one-hit wonder
John Busbee, The Culture Buzz, Des Moines
Bob Stromberg's memorable path to Mr. Wonder Boy was undoubtedly filled with worlds of trials, tribulations, talent development and, of course, wonder. I can't help but marvel at his core of creative talent as he distills much of his life into one of the most substantive comical one-man shows ever conjured. Mr. Wonder Boy is a compelling, can't-miss performance for all savvy enough to grab this pre-New York run before it makes its off-Broadway debut. Stromberg, a creator of Triple Espresso, shares a rewarding stage experience with his audience in his newest show, Mr. Wonder Boy
.
After opening with the rib-tickling "Mr. Wonder Boy Documentary," Stromberg bounces onto stage. He quickly spins into an other-worldly reflection of his earliest days, beginning with infancy flights of fancy…literally. Soon comes the first of many shifts, as he steps through the fourth wall and brings the audience into a more intimate level of a live performance relationship. This shift feels like sliding into favorite slippers, a comfortable easing into a more open exchange with his audience as he tells his story. Anchoring the enthusiastic sharing of his life's journey lies the conflict of having never suffered enough to be an artist and a scathing review. "He is to comedy what Taco Bell is to Mexican food" is just one of the searing condemnations from the reviewer, now the bane of his performing career potential.
Epiphanal life mile-markers during his formative years include a tear-inducing "Shendandoah" music experience as a young grade-schooler to love unrequited to fall foliage admiration during football practice. Stromberg grounds his storytelling with self-deprecation, keeping his performance from drifting into syrupy sappiness. Instead, we are treated to a soft-edged range of introspection and reflection which soars, yet remains intimately rewarding.
Stromberg brings familiar elements to his work, channeling great comedians like an über-psychic, yet ultimately creating his own genuine brand. Elements of Bob Newhart, Red Skelton and Garrison Keillor are just a few which texture his presence on stage. Biographical references, such as going to mime school, are ably demonstrated on stage – Stromberg has the physical pliability of Dick Van Dyke, laced with a boyish inner charm and curiosity which radiate. Delightfully adept at misdirection, Stromberg fills Mr. Wonder Boy with unexpected surprises and titillating twists.
Ultimately, Stromberg's ebullient performance is all about sharing a big heart with his audience. Mr. Wonder Boy gives everyone a most enjoyable, yet sincere, journey which will be carried far beyond the final bows. Stromberg shares an undeniable honesty, shaded with wit, warmth and, yes, wonder. Mr. Wonder Boy runs through February 27 at the Temple for Performing Arts.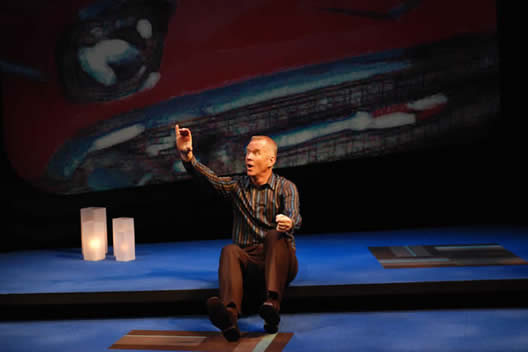 Stromberg Tells Terrific Stories
Graydon Royce, Star Tribune 
Bob Stromberg need never wonder whether he is an artist. His divine comic mission seems clearly fixed on uplifting the hearts of audiences, which he did for many years in "Triple Espresso." Stromberg goes solo in a new show, "Mr. Wonder Boy," which opened Wednesday at the Music Box Theatre in Minneapolis.
Stromberg weaves tales from his life to explore whether he has the necessary suffering from which to create art. His gambit is a bad review (fictional) that he proposes he received a week ago. The wound has caused him to reflect, and he casts back to his childhood in search of his artistry.
This is a sunny warrior, genuine and comfortable as a leather slipper. Stromberg has a strong sense of the young Dick Van Dyke in his style — superb physical malleability, a halting vocal delivery and perfect timing. He has obvious love for his subjects, but his self-deprecating wit prevents his stories from becoming saccharine.
He starts out brilliantly, telling of a sensitive lad who is overwhelmed by the melancholy chords of a simple folk song, the mystery of a great painting and the dazzling flame of autumn foliage. A poignant tale about the girl he sat next to throughout school — the crush he was too insecure to ask out — is absolutely gorgeous. We get the full portrait of a happy-go-lucky kid who was too shy to cut a swath in the world.
But Stromberg takes this story only into his first term of college, where a sour theater professor warns him that only through misery can he find hope as a performer. At this point, his narrative rigor fades and what had been an interesting dramatic inquiry diverts into a standup routine — which gets to be overly long.
Bob Stromberg, the actor, tells terrific stories. But as playwright, he should examine how those stories serve the mythic tale of Bob Stromberg, the character in "Mr. Wonder Boy."
The Music Box production is warm and accommodating. Michael Klaers' lights and Michael Pearce Donley's soundscape give subtle dimension to Stromberg's stories. With Nayna Ramey's scenic accents, these technical accomplishments have the deft feel of art. Risa Brainin's direction is fairly invisible, though one wonders whether Stromberg could be pushed to use his physical acumen to more effect.
As Da Vinci wrote, "Art is never finished, only abandoned." Here's hoping Stromberg does not let go of this piece quite yet.
Note: This review was written after the premiere of Mr. Wonder Boy in 2008. As the artistic team worked to tighten and improve the show, Graydon's feedback, as well as that of others, was added to the discussion. We're happy to say that Bob did not let go of the piece–and we're proud of the result. We thank Graydon, Jeff Chelesvig, and all the others whose input has been so helpful!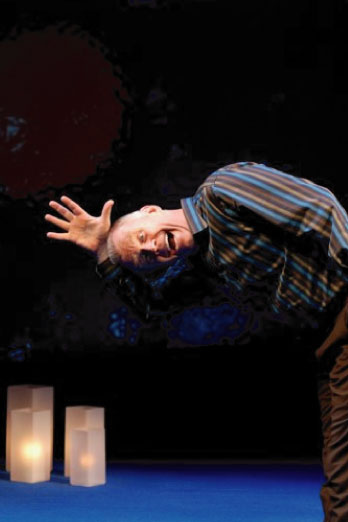 'Mr Wonder Boy' is charming and funny
Renee Valois, Pioneer Press 
Bob Stromberg is a bit like a cross between Bob Newhart and Garrison Keillor. He has perfected the stuttering, stumbling repetition of phrases that made Newhart seem folksy and vulnerable, and he covers small-own Lutherans with a tender humor reminiscent of Keillor. But because Stromberg grew up in rural Pennsylvania, his stories are uniquely his — even though they touch a universal nerve.
In the world premiere of "Mr. Wonder Boy," currently playing at the Music Box Theatre, Stromberg is both author and performer. The show's stories are pulled from memories humor-enhanced by exaggeration and Stromberg's facial shenanigans. Stromberg is as good at conveying a stern former-paratrooper father as he is at suggesting an elderly mother worried about everyone catching pneumonia.
The tales are by turns goofy, charming, embarrassing, sweet and downright funny. But the start of the show is odd.
In a fake vintage 1969 video interview with Stromberg's supposed father, Thurl Wonder II talks about finding a baby inside a metal canister that crashed through his barn roof. But when Stromberg comes onstage, he takes a U-turn, completely dropping his "alien baby" origin idea.
Instead, Stromberg goes off on a rant about a supposedly horrible review of the show by critic "Charlie Morgan" whom he claims attended a preview showing. At first we're not sure if this is real or part of the act, and the uncomfortable audience squirms as Stromberg quotes insulting bits from the review.
As the show progresses, Stromberg intermittently returns to the review to quote increasingly nasty phrases from it, such as "like flossing with barbed wire."
He even offers dissatisfied audience members the chance to request a refund, directing them to a ridiculously-long website address which ends with the phrase "charliemorgansparentswerenevermarried.net." Although Stromberg milks all the humor he can from the bit, starting his show with angst over a bad review that at first seemed like it might be legit makes for an uncomfortable beginning.
Once he settles in, though, Stromberg teases plenty of smiles from the audience through tales of learning to woo girls with an accordion, a dead deer that terrorized him as a tyke and the travails of trying to be taken seriously as an artist when one hasn't truly suffered. Stromberg smartly uses recurring bits to escalate humor as the show progresses, such as his tough father's advice to "walk it off" whenever there's been an injury or illness —- including diarrhea.
Director Risa Brainin has pulled together a nice production, with sound that enhances Stromberg's stories (including off-key chord effects while he strums an air guitar) and a huge video screen behind the actor that illustrates key elements.
After an uneasy start, "Mr. Wonder Boy" captures much of the wonder of art and life in gentle humor. (Consider this a good review, Bob.)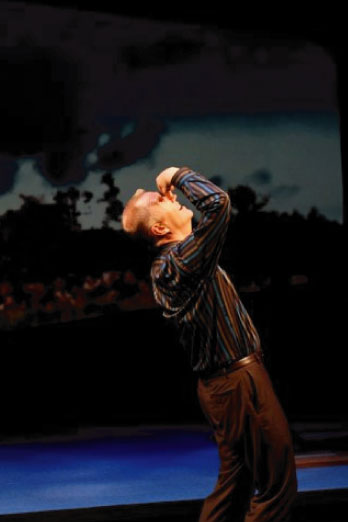 Boy Wonder
Graydon Royce, Star Tribune
If Bob Stromberg is as lucky with his new show as he was with his last one, we'll talk to him again in 12 years about his next project.
Stromberg opens this week with "Mr. Wonder Boy," a one-man piece that digs into the awe-inspiring power art can have for a young boy. He can only hope it will be as successful as his collaboration with Michael Pearce Donley and Bill Arnold — a little ditty called "Triple Espresso."
Ironically, it was the success of that show that drove Stromberg "a little bit crazy," he said, and caused him to bail out after performing it full-time for 10 years with his two partners.
"I loved the show and loved working with the guys, but I was having trouble concentrating — and that's not a good thing," said Stromberg, a gifted physical comedian.
After dropping out, he went back to his career of doing concerts for fundraisers, family nights, business groups — anyone who wanted him. And occasionally coming back to do limited appearances in "Triple Espresso." But Dennis Babcock, "Triple Espresso's" producer, encouraged him to write something new.
"Mr. Wonder Boy" is an autobiographical story of a youngster who enjoyed an idyllic childhood and then, Stromberg said, "overcame it all to become a comedic artist."
Apparently, 8-year-old Bobby Stromberg was overwhelmed by the beauty of a simple folk song in his third-grade class, and this emotional rush caused such a ruckus in his psyche that it helped steer his life's destiny.
"I sat with 33 kids in my class and Miss Nagle pounded out the chords of 'Shenandoah' and we sang and I thought it was so beautiful, I cried," said Stromberg. "And she said, 'Why are you crying?' And how's an 8-year-old supposed to describe his response to art?"
Stromberg traced that seminal event to others in his life where he similarly felt the power of music, theater or comedy. One of the big ones was watching Richard Pryor on "The Ed Sullivan Show," an experience that pretty much sealed the deal. He wanted to be a comedian.
As he describes "Mr. Wonder Boy," the piece seems to have a strong sense of purpose and mission. Stromberg heartily agrees and says that he feels a person keeps discovering his or her vocation throughout life.
"Until we wrote 'Triple Espresso,' I never aspired to write something for the stage," he said. "And then I sit down for breakfast with my buddies and we say, 'We should write something.' And if I hadn't done that, there is no question I would have ever done this."
And maybe someday, he and his pals will write another show about three guys who used to have an act and then reunite for a special appearance (the plot of "Triple Espresso"). Stromberg laughed and said Arnold had suggested the same thing.
"I am enjoying the process of working by myself," he said, "but when I walk down to the dressing room, I realize it's a little lonely down there."

Audience Comments
"Thank you for this gift of wonder in an all-too-skeptical, high tech age."

-David T.

"Every vignette or story was a brillant and creative departure from standard one-man theatre. I laughed out loud (and I mean loud) at so many of your little windows into show business and your father-son relationship."
-Justin F.

"I was just swept away.  That kind of precision and confidence only comes to those who plumb the depths of their craft.  Amongst all I took away was just how important collaboration can be to a work of art. How hard you all labored to create such a consistent style, and to find a rhythm and an arc that kept everything moving forward.  What fun it was to be absolutely transported on such a lovely journey. But mostly I was moved by the story – the story of a joyful life well lived, that says I am a child of God, part of His creation, and by celebrating my own life I can celebrate all life.  The universal from the particular – you did it so well, Bob."

-Michael Cooper (Actor)

"Mr. Wonder Boy was funny, excellent, fresh and thought provoking."
– Tim C.

"I expected a comedic show, but little did I know how moved and inspired I would be. Bob Stromberg does an amazing job, truly painting pictures for the audience. This show was unique, refreshing, inspiring and memorable. Lovely to see such talent and passion in an artist."

-Samantha Smith, KNIA/KRLS Radio

" I was completely thrilled. The show took us all on a journey that broke the barrier between actor and audience while at the same time maintaining the performance bubble that suspends reality.  Doing both is hardly an easy task and one that I greatly admired. I also had a moment to speak to the sound designer whose particular contribution to this show added a texture (ie, the principal and the microphone feedback) that required no props whatsoever, but allowed the audience to clearly visualize what was not there. The woman laughing without control was me. The slide show images hit home… they are as imperfect as we are… and so we love them."

-Miranda M.

"Well, take it from the MHS class clown of '66 that this one man show is pure premium. I saw Triple Espresso four times and left always wishing that Bob Stromberg was the brother I always wished I had. What a gifted  artist  and I'm so pleased he put this show together."
-Jerry E.
"It really is a valuable show. In our 'post-culture, culture' I fear the vast majority of people are simply unaware of how art is created and why. There is a rejection of anything that explores- JOY. It's just as you said so eloquently in your script. As I sat there I was thinking that it should be required for every student of the creative arts in the Twin Cities."
– Lila O.
"It is truly the antidote for what's happening in the world right now. Lots of laughs. Sweet. I need to see it again."
-Ian & Margery My Talk 107.1
"I felt like I was going to be sick from laughing so much."
-Gary F.
"We've been recounting the funny lines the whole weekend! I thought it was a powerful show of stories."
-Doug S.
"Just wanted to let you know that we (my husband & I) really enjoyed Mr. Wonder Boy. Bob Stromberg is an amazing talent! Just as with Triple Espresso, I could see Mr. Wonder Boy over and over! I loved the opening…didn't want it to end."
-Sue S.