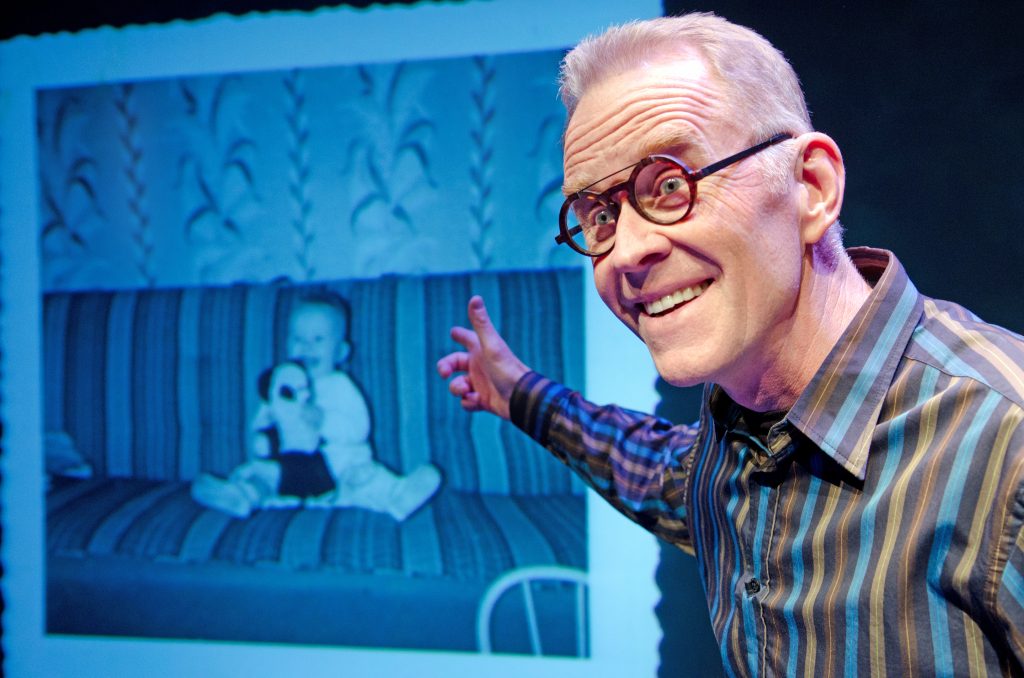 Bob Stromberg (Author, Actor)
Bob Stromberg grew up in the Allegheny Mountains of rural Pennsylvania. Throughout his early school years, his deepest desire was to be recognized "class clown," but as the sensitive son of a school administrator and a teacher he found his aspirations unattainable.
Receiving an art degree from North Park College in Chicago, he continued his studies for two years with legendary mime teacher Tony Montanaro at Celebration Theatre in Maine. It was there he met mask maker extraordinaire Michael Cooper. For over ten years they clowned throughout New England, cutting their performing teeth in over 4,000 school and community shows. In 1989 Bob "went solo" with his unique blend of story, standup and shtick in venues from churches to corporate settings and stadiums.
In 1995 he joined his friends, masterful comic magician Bill Arnold and musical genius Michael Pearce Donley, to co-author the comedy, Triple Espresso —a highly caffeinated comedy. The play opened at the Music Box Theater on April 27, 1996.  Bob remembers hoping to make it through a six week run without losing his home. The Minneapolis run of Triple Espresso closed on April 27, 2008… twelve years to the day. Since its beginning, the "little play that could" has opened in dozens of cities from San Diego to London to Munich. In his signature role as Bobby Bean, the Chicago Sun Times called Bob "…a mesmerizing physical comedian" and the London Times, "…a genuinely funny man."
Bob has written three books, Why Geese Fly Farther Than Eagles, Finding the Magnificent in Lower Mundane and the award winning The Miracle at Stinky Bay. Bob lives in Minnesota with his wife Judy, occasionally still performs with Triple Espresso, and tours extensively as a featured comedian and speaker.
In both capacities, it is his joy to advocate for impoverished children through the Christian ministry of Compassion International, releasing children from spiritual, economic, social and physical poverty.  Visit www.compassion.com to learn more about this important work. Bob's booking information, products, news and videos are available at www.bobstromberg.com.
Bob wishes to use Mr. Wonder Boy performances to remember his wonderful grandfather Albin Nelson, a bottle packer and joyfully suffering artist who never tired of telling stories.

Risa Brainin (Director)
Risa Brainin directed the world premiere of That Wonder Boy at the Music Box Theatre in Minneapolis, and all subsequent productions in Minneapolis, Des Moines, Cheshire, CT, and the United Solo Theatre Festival in New York (where she won an award for Best Direction). Ms. Brainin is the Founder and Artistic Director of LAUNCH PAD, an artist residency and performance program for new plays at UC Santa Barbara. Through this program, she has developed and directed new works by many of America's leading playwrights including Anne Garcia Romero, Idris Goodwin, Yussef El Guindi, Lila rose Kaplan, Barbara Lebow, Joyce Carol Oates, James Still, Alison Tatlock, John Walch and Beau Willimon. She served as Artistic Director for Shakespeare Santa Cruz; Associate Artistic Director for Kansas City Repertory Theatre and Indiana Repertory Theatre; and Resident Director and Associate Company Director for the Guthrie Theater under Garland Wright and Joe Dowling. Other regional theater directing credits include: Denver Center Theatre Company, Alabama Shakespeare Festival, Milwaukee Repertory Theatre, Great Lakes Theatre Festival, Idaho Shakespeare Festival, Clarence Brown Theatre, Repertory Theatre of St. Louis, Mixed Blood Theatre, Shakespeare Festival of St Louis, Portland Stage Company and more. Ms. Brainin is a graduate of the Carnegie-Mellon University Drama Program.
Tracy Woodward (Assistant Director)
Tracy Woodward recently graduated from the University of California, Santa Barbara with a double major in Theater and Psychology. Tracy has a particular interest in the development of new plays, most recently directing the world premiere of "The Average Sized Mermaid" at UCSB. He would like to thank Risa and Dennis for providing him with the tremendous opportunity to work on this show.
Nayna Ramey (Scenic Design, Projections Design, Costume Design)
Nayna Ramey's regional work includes Triple Espresso—a highly caffeinated comedy; The Diary of Anne Frank at the Intiman Theatre; Liliom, Indian Ink, Morningstar at Kansas City Repertory Theatre; Hamlet, The Comedy of Errors at Shakespeare Santa Cruz; Othello, Amadeus at Texas Shakespeare Festival; eleven seasons at American Players Theatre with designs including Ah Wilderness, The Play's the Thing, Romeo & Juliet, Cymbeline, Othello, The Tempest, Antony and Cleopatra, and Uncle Vanya; Jewtopia, The Miamians, His Eye is on the Sparrow, Golda's Balcony at Florida Studio Theatre; My Way, You're A Good Man, Charlie Brown at the McKnight Theatre; Grease and Hair at the Historic Pantages Theatre; Tuesdays with Morrie, Noises Off and Pygmalion at Indiana Repertory Theatre; Snapshots, Hiding in the Open and Main Street at the History Theatre and over 60 productions at Chanhassen Theatres including 42nd Street, Easter Parade, Grease, West Side Story, Midlife: the Crisis Musical, Anything Goes, Annie, Cats, Big Bang, My Fair Lady and Singing in the Rain.
Michael Klaers (Lighting Design)
Michael Klaers is delighted to be involved with Mr. Wonder Boy. His work has also been seen at Idaho Shakespeare Festival, Milwaukee Repertory Theater, Great Lakes Theater Festival, Portland Stage Company, Shakespeare Festival of St. Louis, Indiana Repertory Theatre, Shakespeare Santa Cruz, Pacific Conservatory of the Performing Arts, Missouri Repertory Theatre, the Guthrie Theater, Madison Repertory Theatre, The Cricket Theatre, Mixed Blood Theatre, among others. He is also the Lighting Designer for the very funny Triple Espresso—a highly caffeinated comedy.
Michael Pearce Donley (Music & Soundscape Design)
Michael Pearce Donley co-wrote Triple Espresso with Bob Stromberg and Bill Arnold.  He's performed the role of Hugh Butternut since 1995 across the US, London and Dublin.  He lives in the Twin Cities with his wife, theater director Joy Donley, and his 2 kids, Emma and Lewis. He's a songwriter, concert artist, music director and actor. He's been seen in Twin Cities' productions of 2 Pianos 4 Hands, Cotton Patch Gospel, Forever Plaid, and Pump Boys and Dinettes.  He works on creative projects at Eagle Brook Church in St. Paul, and he's often seen in TV and Internet commercials and heard in radio ads.  He's worked with Ten Thousand Things, Nautilus Music-Theater, Front Porch Theater, Plymouth Playhouse, Hey City and other local theaters as a composer, musical director and actor. His original music has been featured in the popular children's recording GT and the Halo Express, and he was the musical director for the national live radio program Sunday Nite. Michael is a member of Dramatist's Guild of America. You can learn more at: michaelpearcedonley.com
John Markiewicz (Technical Sound Design)
John Markiewicz has twenty five years experience in performance audio, live broadcast, recording and installations. He is the owner of Audio Logic Systems, located in Bloomington, MN, an installation and full service production company providing audio, video and lighting services, as well as planning and consultation.
Benjamin Netzley (Stage Manager)
Benjamin Netzley recieved his B.A. in Theatre Arts from the University of Minnesota, Twin Cities, in 2003 and came to this show from working onTriple Espresso–a highly caffeinated comedy. Some of his other work includes Warm Beer Cold Women: A celebration of Tom Waits ,the operas Cosí fan Tutte, and Don Pasquale, and the Classical Actor's Ensemble production of all 152 of Shakespeare's sonnets. He also works with Hollywood Pyrotechnics as a display operator, setting up and setting off professional fireworks displays for festivals, celebrations, and stage. In his spare time, he pursues interests in blacksmithing, photography, music and aviation.
Dennis Babcock (Producer)
Dennis Babcock, Producer for Wonder Boy LLC, is also President of PalmTree Productions, Inc. and President and Executive Producer for Triple Espresso LLC. He began his professional career in 1973 as an actor at The Guthrie Theater in Minneapolis under the direction of Michael Langham. In 1978, as the Guthrie's Special Events Producer, he created the Live at the Guthrie series to bring a variety of theatrical and musical artists to the Twin Cities. These included such celebrities as Princess Grace of Monaco, Henry Fonda, James Whitmore, Joel Grey, Julie Harris, Hume Cronyn, Jessica Tandy, Neil Sedaka, Melissa Manchester and Sir Cliff Richard. Dennis was the Managing Director of the Pittsburgh Public Theater from 1982-1984 and returned to the Guthrie Theater to serve as General Manager from 1984-1986. In 1987 he created his own company, PalmTree Productions, Inc. He has created and produced such acclaimed shows as Vincent, with Leonard Nimoy, Grandma Moses — An American Primitive, with Cloris Leachman, and he worked with John Astin in the creation and original production of Edgar Allan Poe- Once Upon A Midnight. Since 1996, Dennis has produced Triple Espresso in 42 cities in the United States, six foreign countries and overseen the translation and producing of the show into German and Flemish.  For five years, he served as President, CEO, and Chairman of the Board of Christmas Carol, Inc., which produced Charles Dickens' A Christmas Carol in theaters across America, with stars such as Wilford Brimley and John Astin in the role of Ebenezer Scrooge. For seven years he served as Chairman of the Board of Media Fellowship International, Inc., a Christian ministry, which serves professionals in the media and entertainment industries.
Dennis is an avid runner and averages two to three marathons a year, including one on six of the seven continents. Yes, he has run a marathon in Antarctica and only has Australia to complete to become a member of the "Seven Continents Club." He served for six years on the Board of Directors of the Medtronic Twin Cities Marathon. He lives in Minneapolis and is a devoted parent to daughter Bri (and son-in-law Leif), son Brooke, and daughter Chelsea, as well as growing numbers of grandchildren.
Rosalie Miller (Associate Producer)
Rosalie Miller came to theater by way of radio, where she worked for eight years on the original production of Garrison Keillor's A Prairie Home Companion. While working with Mr. Keillor, she produced the recording Prairie Home Comedy and the Grammy-nominated More News From Lake Wobegon. In 1990, she began producing the award-winning regional cable television variety show, The Cedar Social, and in 1991 she joined the staff of the Dale Warland Singers, serving as Personnel Coordinator and Road Manager, and later as Interim Executive Director. Rosalie began working with Mr. Babcock in 1994, when she became Group Sales and Merchandising Manager for Christmas Carol, Inc.'s production of A Christmas Carol. She later authored A Christmas Carol Study Guide and toured with the show as Company Manager. Then along came Triple Espresso — a highly caffeinated comedy. From the expectation of "a fun project for a few months," it grew into well over a decade of nonstop, whirlwind action, as the show became a hit in city after city around the country and the world. Rosalie continues as Associate Producer of Triple Espresso — but hey, there's no need to limit once-in-a-lifetime experiences to only one at a time — so she's delighted to also be a part of  Mr. Wonder Boy and can't wait to see what's in its future!